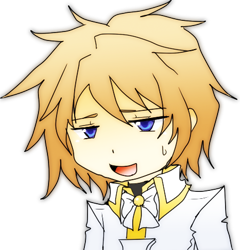 Name: Alexander
Gender: Male
Age: 28
Occupation: Teacher/Magical Girl Club Leader
Weapon/Power: Holy Sword
Bio: Alexander is firm in his belief for justice, and believes a bunch of adorable girls are the perfect people to administer it. While he realizes all of his club members are pretty much horrible at doing what they're supposed to do, he still tries to have some patience with them, and it of course helps that they are a... Well, bunch of cute, young girls. He has a perverted side, but tries not to make it obvious, and spend most of it up in his fantasies. Back in his younger years he was a hero himself, but now that he's retired, he's dedicated himself to teaching the "next generation." He isn't fond of his sister Morgan, and believes she needs to "see the light."





Name: Mari
Age: 16
Class: Junior
Gender: Female
Weapons/Powers: String/Cat's Cradle
Bio: Mari is a very happy girl that changes into your run-of-the-mill "Neko" magical girl. She has a bad habit of putting "Nyan" after almost everything she says. She can be loud and obnoxious. She is very clingy to her best friend Holly. Put them together and you still only get half a brain.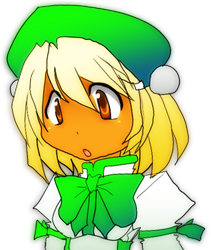 Name: Holly
Gender: Female
Age: 16
Class: Junior
Weapon/Power: Baton
Bio: To put it simply, Holly is not the sharpest crayon in the box. She could be considered a real air head, and is very slow to the uptake. While she may not be very smart, she is still a sweetheart, and is nice to just about everyone, even the people who are supposed to be her enemies. She's extremely clumsy, and often will accidentally injure herself and/or her team mates while trying to use her baton.






Name: Sophia
Age: 17
Class: Senior/Student Council
Weapons/Powers:Spell book, Apple Bombs/ Handwritten Spells
Bio: Sophia is a shy girl hiding behind giant grandfather clock glasses. She writes down all her home made spells down into her spell book...too bad all the spells never go as planned. They usually backfire and work against her, or cause way more damage than needed. She's clumsy and always seems to lose her glasses at the wrong time. Don't get in her way...accidents may happen.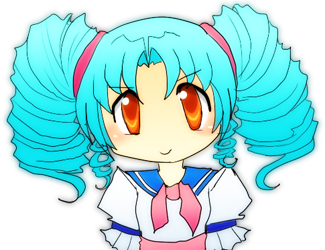 Name: Tami
Gender: Female
Age: 12
Class: Freshman (she skipped some years)
Weapon/Power: Magical Wand
Bio: While Tami appears to be a sweet and adorable little girl, that is just in appearance. She's actually quite evil, often going on diabolical monologues when she thinks no one is listening, only to put on her cute charade when other people are around. She wants to join the villain side but gets upset when she is reminded only boys are allowed to join. She is one of the few who are actually quite talented with their abilities, although unfortunately she hates them and would rather have an extremely dark power.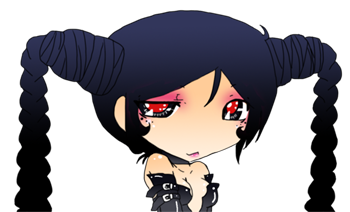 Name: Morgan
Age: 30
Gender: Female
Occupation: Super Villain Club Leader Weapons/Powers: Whip
Bio: An attractive, older woman, who is a retired super villain. She "wastes" her time, teaching the villains of the future how to be truly evil and use their powers to their fullest. She is going to show her no good brother what it truly means to be "Super". She dislikes be brother with a fiery passion and will make sure he fails at creating heroines that will "save he planet. Not because she is evil, but mostly because of your stereotypical sibling rivalry.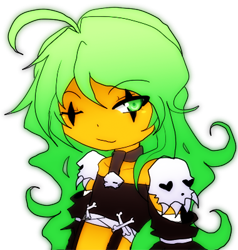 Name: Briar
Gender: Male
Age: 17
Class: Senior/Student Council
Weapon/Power: Rake and "soul seeds" used for Necromancing.
Bio: Flirtatious and equipped with a silver tongue, Briar tends to bring life to the party (ironically). He tends to be rather cool headed unless he doesn't get what he wants, in which case he will pout, whine, and sabotage until he does get it. He's terribly vain, and will not hesitate to poke fun at people if they don't meet his high standards. When he's using his powers, he often gets possessed by ghosts that tend to get him injured--and when he DOES manage to bring up some zombies, most of the time they would much rather slack off, look at some flowers, or flirt with him (which freaks him out) instead of doing what they are supposed to do.





Name: Deo
Age: 16
Class: Sophomore
Gender: Male
Weapons/Powers: Chemicals/Ability to create monsters/homonculous
Bio: Deo is a quiet boy that tries his best to perfect his powers. His self esteem isn't very high, especially since he is intimidated by his upper class-men in his villain class. Not to mention the fact that he ended up with the scraps when deciding on his super villain costume. His experiments always seem to blow up in his face or at the wrong moments. He doesn't like the fact about hurting a girl, but if he must...he'll try. He still has so much to learn, but he isn't sure if he CAN learn much from this class. He has his doubts, but he'll try his best.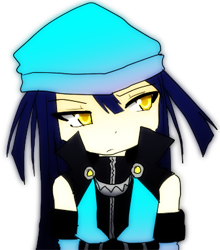 Name: Julian
Gender: Male
Age: 17
Class: Junior
Power: Illusions
Personality: Julian is known to have a very short temper, along with little patience, and because of which he tends to be shouting and just being generally annoyed most of the time. While his temper may make him seem rather stupid, he's actually quite smart, and is a really good student despite his frequent outbursts. He's known for his "cute" hairstyle, and wearing a hat all of the time. His illusions tend to go wrong or just fall flat, which only spurs his anger even more.






Name: Jape
Age: 18
Class: Senior
Weapons/Powers: Marionettes/ Control Dolls
Bio: Jape is your regular Geppetto with his doll making and collecting. He uses these dolls *except his sock puppets of coarse* as marionettes to destroy his heroine peers. What's strange about Jape is that during the school days, he feels a need to wear a brown paper bag over his head. Not only that, but during after school clubs, he wears a mask as if taken from a play, so it's hard to know what he truly looks like. He can be quite the romancer when he wears his mask, but as barf-bag...he can be quite the nerd. He is over dramatic, and since he's a senior, during club meetings he acts as if everyday is his last day on stage.



Name:Mauro
Age: 16
Class: Sophomore
Gender: Male
Weapons/Powers: Chalk/ Chalk circles
Bio: Mauro is a quiet boy who doesn't feel the need to talk most of the times. He is the one that will say few words that will make sure to stab at you. Other than that, he just keeps to himself, trying to be the "cool kid". His chalk circle spells always seem to taunt him, always getting them wrong. Instead of doing the spell he wants, it turns out completely different or flops.



Name: Jessi
Age: 16
Class: Junior
Gender: Male
Power: Bring food to life
Bio: Referred to as a delinquent, Jessi is really quite the nice guy. He's talented in culinary, even thought his looks dont tell you that. He just wants friends, but a lot of people are too scared of his persona.. His stern "I'm gunna kick your ass!" look. He bakes in his spare time...at least his cookies seem to listen to him, but they can pack quite a punch. This makes him seem as a bit of a sissy when he's in battle, but letting your guard down would be a foolish thing to do.